We awoke the next morning feeling somewhat better.  At least we weren't sleeping crammed in on a boat, or drifting across a bay b/c the anchor didn't anchor.  But I digress, our fishing adventure finished and now onto the beery adventure!  Since Alaska is so 'small' and shipping costs so high, the entire states basically distributes in house.  Which is great simply because you get to try multiple beers at different places, but this didn't stop us from attempting to visit every brewery we could.
Every veteran beer drinker knows: never start on an empty stomach.  Given that the cosmic forces were aligned against us we figured we might as well dine there as well.  Breakfast food is pretty difficult to screw up, and they didn't.  Eggs, sourdough pancakes and the bacon from some big hearty Alaskan Wooly Pigs sure hit the spot.
But they're closed till 12. Rude. There isn't amything else to do in this town "A Quaint Drinking Village with a Fishing Problem", so we debate, 'what do we do', wait and toss the rest of the schedule out or kill some time. To figure it out we went to the Grog Shop where I had heard they have growlers of Homer beer. I wasn't leaving without something. There the guy gave us the alcohol brochure for Homer, Brewing/Meadery/Winery. I had forgotten about the meadery so we decided to hit Two Sisters Bakery and wait.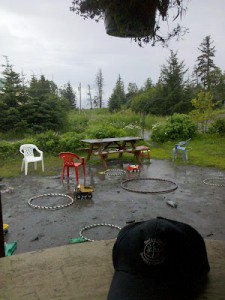 Had some coffee and pastries in this bakery converted from a home, sat on the back patio and just watched the rain. Coming from San Diego, this was really a rather nice change of pace. The locals and my Portland buddy didn't agree with me.
We only sampled 1oz each of their 4 Reserves: Blackberry, Redberry, Vanilla bean and something else. At posting time the site won't load fully so I can't see their lineup. The Blackberry was awesome and i walked away with a 355ml bottle for $30. Ouch.
And this time the door did open.
Pretty much their entire lineup is Meh. Nothing exciting or even good. Not bad via horrible brewing, but just dumbed down beer. Even T who's not the biggest beer geek said he wasn't impressed. The girl at the tasting bar from PA was about as uninterested as you can get.  When your staff isn't interested in selling, you must be doing something wrong.  Too bad I already had a growler of the stuff.
I had bought a growler at the Grog Shop of their stout, to which I now fully regretted as it was boring. At least all over AK growlers are only $5. That growler would also come back to haunt me, what a bad purchase.
Time to leave Homer 3hrs late. To which we blame Alaska Air. Running joke the entire trip. Before leaving the motel I used their connection to scout out and map out breweries. Didn't have 3g or any net connection via Verizon so my phone was pretty useless.  It's amazing how addicted you can be to technology.  Other than taking photos we rarely were online, disconnecting felt great.
Tough to spot a breweries sign when it's behind a parked car, on the pavement leaning up against the building.  However, in a small town finding beer is easy. 
This place has some pretty good beer and some pretty bad beer. Had been drinking it at several spots around. Picked up some Diaceytl in their Pillars Pale Ale and their Arctic XPA. Wasn't impressed with the Pale, but the XPA had some good stuff going if they could nix the buttah.
Good beers were Naptown Nut Brown and Sunken Island IPA (had this at another bar as brewery was out).
Really Good beers were Pothole Porter and Skilak Scottish. Last I picked a growler up of for dinner at Tom's Tuesday.
The MOST interesting thing about this place is their fermenters, they're all 'open'! They do have lids but they do not have airlocks etc… I didn't get into it with Matt since he wasn't a brewer but I let the butter problems slide, would have enjoyed talking to the owner though. They're currently debating buying a bottling line but aren't sure if they want to expand that much.
I'm not sure why, but Party Pigs are popular out there. Go figure and their prices are extremely reasonable (no state sales tax either).  This was a fun, lowkey place to hangout.  The vibe in Alaska is pretty mellow, no one is in a rush to get anywhere.
Next off to Kassik's Brewing. Which according to my info was about 4mi away. My sense of direction is pretty good and I always get lost.  Insert irony that I make maps for a living, but it was more like 20miles away. T was driving as I wanted to chill and as we're driving through Kenai (having already passed where it should have been) we're arguing if we need to pull over for directions or flip a bitch and go back and see if we missed it. Some jackhole makes a short stop/turn and T hits the brakes…*tink* goes something in the car *glug glug glug* goes something in the back seat *snif*? Hey, it smell like stout in here?!
1/2 gallon of beer in the well of the rear passenger floor. The growler rolled up under the seat and hit the seat rail support which cracked it. Best part: best beer to lose as it was shitty, Worst Part: it was from furthest away and I wanted the growler. We pull into a Pizza Hut in BFE Kenai and 1st get directions for Kassik's then ask if I can borrow 900 napkins to soak the beer up. What a mess. The car stunk of stout and it slowly evolved into a yeasty smell until 4 days later we put carpet cleaner on it that made our eyes water.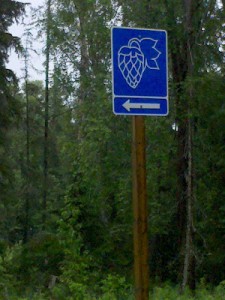 With proper directions in hand we head out to Kassik's, which is really in the middle of nowhere as the town has proper signage to help you find the beer.  This place is a small warehouse in Frank's front yard.  In fact, as we drove up and parked, he walked out of his home and opened up the brewery.  We got to chatting and he knew some SD brewers as well.  Really nice people and the brewery is seriously in the middle of no-where.  By far the hardest to find, so they had AKDOT signs made, I contacted the company and even bought one for my house.
Not a bad beer in the bunch. Guy claims to be a homebrewer, but he's making excellent clean great beer. He's also about to expand and is also contemplating a bottling line. Right now he and his son are running the joint.
Good, Beaver Tail Blonde, Otter Creek Amber, Dolly Varden Nut Brown
Really Good, Morning Wood IPA, Moose Point Porter, Roughneck oatmeal Stout, '09 Barley Wine
He's most proud of his Barleywine and Porter. Cool guy and really worth the stop, then we turn around and head out after buying some schwag. What can I say, I'm a beer whore. 20mi back to Soldotna to hit St. Elias brewpub. Honestly, I didn't have high expectations but I was proven wrong.
Forgot this other tidbit: his well water is 42F. He doesn't add any finings and doesn't have a glycol chiller, although he said he will change that when he expands. He actually bought most of his equipment from Alice's Champagne Palace years ago and relocated it to his new place. His cold storage is actually an old refrigerated semi trailer.
Final stop on the Kenai for lunch is St. Elias Brewing Company.  Generally I don't get my expectations set high for brewpubs (other than Pizza Port), but this place was excellent.
Starving and looking at a LONG drive back to Anchorage to hit the airport to get our bags as well, this stop was a food stop as well. At this point we're pretty grungy but given an area full of loggers and fishermen we sort of fit in.  Which is scary.  We had packed 1 clean change of clothes in our carry-on at T's insistence since he's well aware of his curse.
Garbage: was the Mothers Milk Irish Stout, got zero lactose out of it and it was overly astringent
Good: Pale and Kolsch, if you like banana the hef was for you, but not for me, picked up a 1ltr of the IPA for later and the rest wasn't remarkable. Good but not great, Kassik's beat them hands down. I had a pizza here, I think, and food was good, and properly filled, back to Anchorage.
This wraps up most of the Kenai. On the way back we did stop in Girdwood, and we went to Chair 5, which I'll cover in the next post as it's in between Anchorage and the Kenai. Get ready for part III!
   -EW