If you've enjoyed reading about the Alaskan Adventure then get ready, here's the bulk of the tasting.  Prior T and I were sailing and fishing (mostly drinking beer on a boat) and nearly wrecking twice.  Once when the anchor didn't set correctly and we drifted across a cove and near some very large and very pointy rocks.  The 2nd time as we were motoring into the docks as we were getting close to the massive breakwater the motor cut out.  Instantly Tom's head poked through the hatch "Why the hell did you kill the engine?" I replied it did that all by itself. 

For an older fella he was topside in a flash, raised the sail and gave me a rope and said "Pull this fast!"  And I did like a meth head who was told there was a hit on the other end of the line.  Hard to starboard the wheel went and we pulled away from the breakwater which was about 20′ high.  Alaskan winter storms are no joke.  Refueled the tank and Tom pulled us in before we squared away his boat.
Now back in Anchortown (and a fresh pair of skivvies), T and I found the condo we were staying at and got busy exploring my hometown that I hadn't been back to in 14 years.  As much as things had changed, it was still a little city of 300,000 or so.  The rest of these happened over a period of 3 or so days, not sure the order we visited them in so here they are:
Peanut Farm used to a be 2 joints, one of which was a strip club. The PF bought it, shut it down and re opened it as a sports bar. Place is huge and I get a giant mug of Midnight's Sockeye Red. We tour the place, beer is excellent, then headout to Sourdough Mining Co for dinner. Except they're closed, so we head back to PF. I had Halibut again, was bent on stuffing myself full of fresh seafood, and another Sockeye Red IPA.
Midnight Sun Brewing was one of my top 'must dos' of the trip since there beer at the time, hardly saw any distribution.  And I love the name.  This was a post lunch spot we hit as I wanted to make sure they were open. 
They will only serve each person 36oz of beer. Period. So we split ours up to get samples of as many beers as possible. I think this rule has since changed.
Good, Kodiak, Sockeye, Arctic Rhino, Fallen Angel Strong Golden
Really Good, Gluttony (fresh, had both fresh and aged), Tree Hugger, White Collar Crime
Didn't get to try 'em all and we had several others at bars around town. I brought back 17 beers via bags/boxes for a big Alaskan tasting. Some like Monk's Mistress and XXX I have both 'neat' and 'oaked'. I really wanted to go back here a 2nd time but we ran short in our week in A-town and it didn't happen. Def the place to hit, and I really did screw up and I brought back 4 of the year-round beers that I should have picked up in Portland. Drink and learn.
Humpy's Great Alaskan Alehouse!
Sort of a sportsbar, club, alehouse all tied into one.  Remember, when it's -20F you don't want to spend a lot of time outside.  We hit this place up for dinner. 
The Great Divide 16th Anni Oak Aged DIPA horrible, didn't finish it.
Alaskan XXtra Tuff Imp IPA also horrible, didn't finish it.
Denali brewery Chuli Stout AW=FG
Rogue Capt Sig Northwestern Pale AW=G
Moose's Tooth Fairweather IPA AW=Meh
We also had Smoked Salmon vodka bloody mary's here.  Sounds disgusting, but man, are they tasty.  The smoked salmon vodka smells horrible, but when mixed it gives a light smoky character to the drink.  Awesome!
The story goes one of the guys I went to highschool with decided to make this.  He thought there had to be a way to get smoked salmon into a bottle.  Legend has it that he and his buddies worked up 50 different infused batches to figure out how to do it/what ratio to do it etc…
From the stories it was the worst 'tasting' ever where each guy had a puke bucket nearby for each horrible batch.  A lot of dedication to bring this to market.  Just don't drink it neat….*barf*
Per my notes we drove back down Turnagain Arm one day for lunch.  The idea was to hit up the restaurant on top of Alyeska Mt (ski resort), but when we arrived the tram up was $18/ea and reservation only.  Uh…too rich for my blood so we went to Chair 5 instead.  Nothing remarkable, I'd skip it, beers were run-of-the-mill and overpriced.
 Much like our Pizza Ports in town, the "Tooth's" are similar.  There is the Moose's Tooth, Bear's Tooth and by now the Brooken Tooth.  All named after peaks in the local Chugaik Mountain Range.  Great pizza and beers.  Moose's is the 1st, pizza and beer, Bear opened later and is part of a theater and has more of a restaurant grill than Moose's. both are ALWAYS packed every night of the week.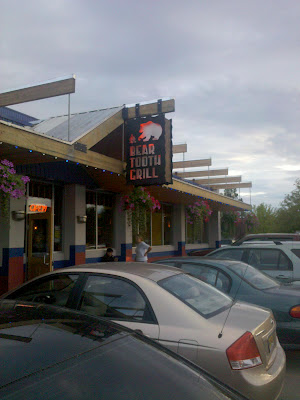 Pizza is FG, the beer I wasn't as impressed with. Fairweather was OK, Pale Ale was OK on the lighter side, Pipeline Stout was good, but I was so full I couldn't finish the pint. Raspberry Wheat was actually pretty good and balanced a very sessionable ale. Their best beer was their Apple Ale, cider w/ malts. very very hazy and very very good. Same over at Bear's Tooth.
Just down the street from them is probably the oldest bar in Anchorage,
Chilkoot Charlie's (aka "Koots"). This place along with the Buckaroo Club were known as the place to get stabbed or shot…by the bouncers in the 70's and 80's.
You walk in and it feels like the shitty beer has saturated the walls and floor. We had a cocktail at Koot's before leaving for better beer bars. I will say one thing is cool, way back there used to be the Bird Creek Roadhouse. this bar was built on the slope going down into the creek and each stool had it's own place at the bar where the legs had been cut and matched to slope at that point. It burned down 10yrs ago, but Koot's recreated it, slope and all, inside one of their many rooms. "Have a drink, leave your panties" stapled to the ceiling. Last Saturday was their 40th anni but I didn't go in as I was exhausted. Same day was Moose's 14th anni.  While not nearly as crazy as it used to be, the people here party hard.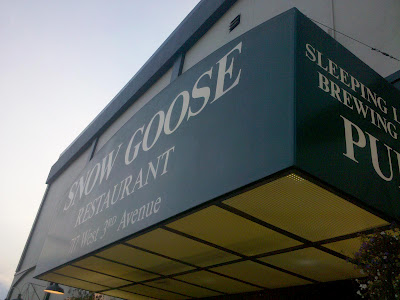 Snow Goose Restaurant w/ Sleeping Lady Brewing
Known for their deck, expensive food and iffy beers.
The Braveheart Scottish was my fav, give it an AW=G. Rest were ehh…they do a lot of weird shit with their beer and I wasn't impressed with their bourbon vodka oaked porter (wtf is that anyway).
When it's nice out the deck would be killer viewing Cook Inlet and sleeping lady: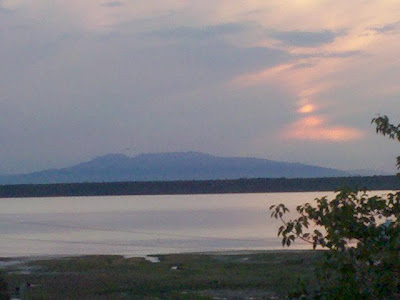 Taken from the deck at 11:25pm.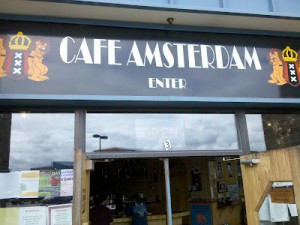 Our last day I remember best, we headed back to the Southside (where T and I grewup) to hit the Taproom. Only to roll up to find it closed permanently. Next we drove to Celestial Meads to find out they don't open until 4pm. Zero for Two.
Was open and holy hell, that woman/owner will talk your ear off. They have some interesting beers on tap, a good bottle list of belgians and they LOVE to talk, doesn't matter if you've been to XYZ brewery or are sleeping with the brewer, they'll tell you all you don't want to know. I had only 3 samples here, buddy had a full pint of an IPA. I would have ordered another full pint but the woman kept yapping and never asked if I wanted another. WTF? The good part is we learned the tap room had moved to the old Fly-by-Night club. Which was a dirty comedy joints in Spenard. We went there next: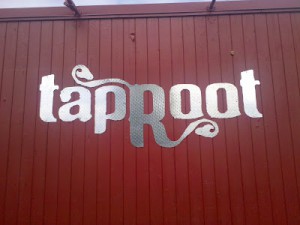 Only to discover it didn't open until 4pm. Getting tired of this nonsense. We killed some time and headed back. Nothing like walking in just as they open. Took 10mins to find Emily the bartender but she turned out to be really cool. We were yappin' about everything and she was bored as we were her only customers so we got her undivided attention and a lot of free beer.

After awhile curiosity got the better of us and we asked "What's a Breakfast in Spenard" shot? Emily got a twinkle in her eye and said she'd bring 2. No idea what they were. We found out: 1/2 Crown, 1/2 Butterscotch liquor and a slice of warm thick cut bacon. that's about 4oz and she made them using a 6 count pour. Tasted like syrup on your pancakes. In 1.5hrs we each had 2 beers and then this shot.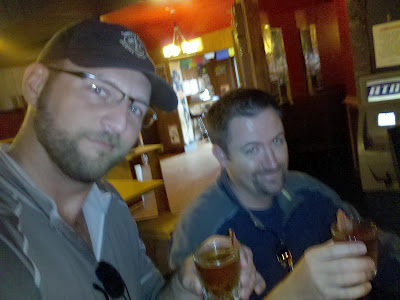 Cheers!
Next up they had a new bartender so they made us a Moose Dropping, basically a Irish Car Bomb made with Sleeping Lady Porter. New guy claimed he knew beer, but apparently had never ordered a cocktail. he poured us full pints of the Porter, so we offered to drink them down 1/2 way before doing the Bomb. Pretty tasty.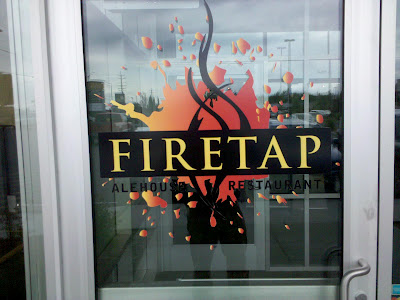 A newer joint with 32 taps, 27 of which are local beers. We actually came here twice. Once for a pint and then a 2nd time after the Taproom was closed for lunch. Massive portions, esp if you order the calzone be starving. Glacier brewing makes an oak aged red ale for them, and it is awesome. Had that twice.
Apparently I didn't take any pics of Glacier brewing. That place serves excellent food and is $$$$, plus their beers kick ass. Their IPA was one of my favs as well as several others. to which I can't recall a this point and I was well beyond taking notes. Very nice decor and not really a brewpub so much as a brewgrill, very upscale. In fact, this should have been nominated for the upscale brewery someone was doing.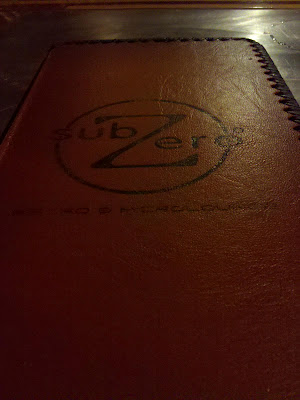 One night we hit Sub Zero. A Belgian beer bar, sorta. Just think high end, they will charge out the ass for their bottles. However, they had a live band playing 30's music, get dressed up, high end cocktails. only mentionable because I had Great Divide's Espresso oak aged Yeti, and it blew giving me 3/4 pint for free.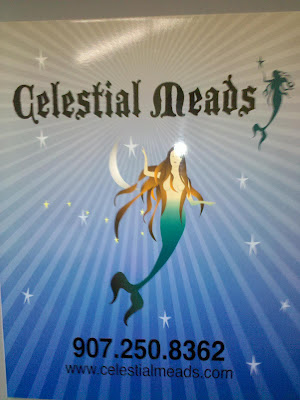 We got back here at 6:30pm after drinking at the Taproom. I wonder if they knew how buzzed we were? Anyway, this guy was cool as hell. Showed us how he makes mead, swears by "The Complete Meadmaker" and has the medals to prove it. Between him and Ring of Fire, Alaska is cleaning house in the mead categories. Very informative and wasn't shy about sharing his 'secrets'. Helped that I had made mead before and they were incredibly nice. Plus I loved his mead. Expensive as most of his stuff was 20 to 30 bucks, but a great after dinner drink.
We hit a few other bars like Pioneer Bar and a few other misc joints but mostly were drinking cocktails and hanging with friends. this about sums up the entire trip. 9 days was needed but damn, it felt long. 1/2 these places I'll never go back to but were fun at the moment. After this trip, I canceled going to GABF. New Zealand is now on the docket in 2012.
*Never made it to New Zealand, See: Beer, Love & GABF in a later post!
And that was the end of the Alaska getaway.  It was an amazing time, we saw Orca's hunting in a pack, tons of wildlife, hit every brewery and tap room we could find and I got the most out of the town I grew up in.  Can't say I'll be back soon, but it was crazy fun.  Things have changed since I was there, Anchorage Brewing is now open and you can find their beers here.  Midnight Sun has also increased distribution as well.