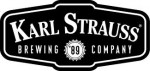 Long Business Description
It all started back in the mid 1980s, when our fearless founders, Chris Cramer and Matt Rattner, graduated from college and moved to San Diego, Chris' hometown. They set up shop in an apartment on Mission Beach, armed with newly minted degrees, an entrepreneurial spirit, and an appreciation for beer. Inspired by a brewpub Chris came upon while traveling through Australia, they wanted to open a microbrewery and reintroduce locally brewed handcrafted beer to San Diego, a concept banned by Prohibition in the 1930s.
But there's a fine line between a good idea and a crazy one. They needed to consult an authority on the subject. Enter Karl. As in Karl M. Strauss, Chris' cousin and world renowned master brewer of over 50 years. He not only endorsed their idea, but he also lent his expertise to the venture. With "Uncle Karl" on board, they went about crunching numbers, working out logistics, and tasting different beers (strictly for research purposes, of course).
If We Brew It, Will They Come?
After a year of writing IOUs to friends and family, overcoming archaic liquor laws, and nailing down beer recipes, the clock struck beer-thirty. On February 1st, 1989, the night before Chris and Matt opened the doors of the first new brewpub in the city of San Diego in over 50 years, they wondered: "Will people come?"
On opening day, locals lined up around the block on Columbia Street downtown to try the three original beers: Karl Strauss Amber Lager (Karl's favorite), Gaslamp Gold, and Downtown after Dark. For most people, it was the first time they had ever tasted fresh beer. Not only did Chris and Matt run out of beer within weeks, but soon requests were flowing in from local bars and restaurants who wanted to serve Karl Strauss beer. The boys were on to something big.
Employing the trusty "learn as you go" technique, Chris and Matt kept up with demand by quadrupling the 10 barrel brew system at the brewpub. They also set up a small distribution brewery in a nearby industrial park, which they outgrew in a matter of months. In 1996, they bought a greenhouse on Santa Fe Street in Pacific Beach and converted it into the main brewery we call home today.
Share the Beer
A lot has changed since those early days. We now brew over 30 beers a year, including 6 core beers and a host of specialty beers, and seasonals. Our distribution has expanded to include over 2,500 bars, restaurants, liquor stores, and grocery stores throughout Southern California. And we've opened five more Brewery Restaurants in San Diego, Orange County and Los Angeles.
One thing that hasn't changed is the commitment to brew fresh, quality beer that our first Brew Master instilled in us. Karl's love of life, respect for others, and passion for handcrafted beer serves as the foundation of our company to this day.
AHA and QUAFF members receive Happy Hour prices all day with paid membership.
QUAFF Members: Paul Segura & Sean Albrecht