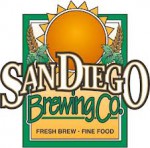 Long Business Description
Getting to Know Your Brewery
The original manufacturing facility known as San Diego Brewing Company® opened in 1896 with much fanfare. A. E. Horton, the father of San Diego, referred to the Brewery as the most important industrial enterprise since he founded the town. It was the largest manufacturing enterprise in the county.
The brew house held a 25 horse power engine which operated the elevator, barley mill, mash tun and other apparatus. The mash tun could easily give shelter to twenty five men! The brewery's fermenting cellar was filled with great tanks full of amber fluid, foaming and sparkling. The capacity of the plant was 75,000 barrels.
San Diego Brewing Company® delivered their product to all parts of the city and county in bottles or in barrels. Their beers were said to "sparkle like nectar". Sadly the company was removed from 32nd Street by the Navy in 1942 and replaced by a base for the Pacific Fleet.
Today the new San Diego Brewing Company® hopes to carry on the tradition that was started so long ago. Along with an assortment of fresh beers brewed on the premises, San Diego Brewing Company® offers up to fifty taps of beer every day, providing a brew to satisfy each and everyone.
QUAFF Member: Lee Doxtader