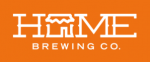 Long Business Description
Home Brewing Co. is the extension of our roots as a homebrew supply store. A fully licensed brewery and tasting room. We designed Home so that we can split our 7bbl batches into smaller experiments. We share our notes and recipes right here, so that you can learn about the process and ingredients first hand.
We have several homebrew enthusiasts and Certified Cicerone (TM) Cicerones on staff that look forward to talking about beer with you.
QUAFF MEMBER: George Thornton